Top 5 Data Visualisation Tools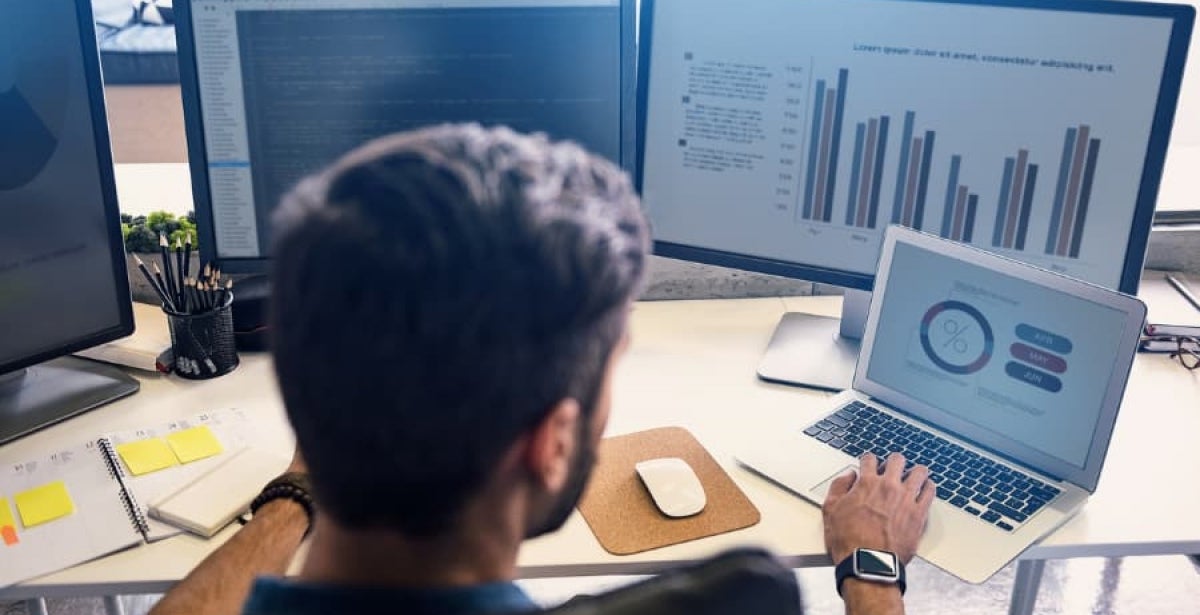 Big data can be an important tool for business. When it's properly harnessed, it can provide insights that can lead to smarter growth and stability strategies. However, big data is only effective if it is effectively interpreted. As the individuals who make business decisions are often not the same people who extract data, it's crucial that the data's meaning is presented clearly. This is why data visualisation is a critical element of data analysis.
Data visualisation is both a science and an art. It relies on relevant information being presented in a way that efficiently enables clear understanding. This meeting of form and function is made easier with data visualisation tools that convert raw data into aesthetically pleasing and informative images. Most business intelligence (BI) software provides relatively standard data visualisation out of the box. However, data professionals equipped with a Master of Data Science or Master of Analytics degree can use their knowledge and skills to create custom queries for particular outcomes. 
What is data visualisation and why is it important?
Data visualisation represents data through graphics such as charts, pie graphs, scatter plots and more sophisticated forms such as infographics and animations. The purpose is to break down complex types of data into simple representations that clarify its insights, from customer behaviour patterns to vulnerabilities in a company's processes.
Data visualisation is vital to business strategy because it distils key insights from a wide range of data sources into a format that can be digested quickly. It can also minimise ambiguity, making it easier for a company's stakeholders and decision-makers to visualise current business circumstances and future possibilities.
Best data visualisation tools
All data visualisation tools have the goal of transforming complex data into graphical representations, but different tools have different strengths. Here are the five best data visualisation tools that data scientists and analysts choose for the job. 
1. Tableau
Founded in 2003, Tableau is regarded as the grandmaster of data visualisation and the best-known self-service product in this category. The company's mission is to help people see and understand data. Tableau's community boasts over one million members worldwide, covering more than 500 user groups.  
Tableau is capable of handling huge and constantly changing datasets, such as those used in machine learning and Artificial Intelligence (AI). It also has a user-friendly reputation. Data professionals can deploy a wide range of techniques to create their visualisations, from AI-based statistical models to basic drag and drop methods.  
Tableau's interactive visualisations go far beyond anything available in BI solutions, and it is integrated with database software such as Hadoop, Amazon AWS, My SQL, SAP and Teradata. As a result, it's a popular choice for enterprise-level companies that have their own data analytics and data science teams. With a free trial, accessible monthly subscription and a friendly user interface, Tableau makes data visualisation possible for smaller organisations as well.
2. Sisense 
Sisene has built a strong reputation for being an agile data visualisation tool. It also uses the power of words to help put data visualisations together. Sisense's Simply Ask Natural Language Query (NLQ) feature enables staff to ask a question using natural language and receive an answer in data visualisation form. Sisense also offers integration with Slack, Facebook, Google and more.
Sisense is an end-to-end solution, which means it provides all the software and hardware required. While this makes it less accessible to smaller players, it gives enterprise-level companies access to in-chip processing, rather than in-memory processing. Sisense calls it the 'secret sauce' that processes data 10 times faster.
As a full stack analytics platform, Sisense provides client-side (front-end) and server-side (back-end) solutions; and its hardware can handle big data with dozens of concurrent queries. For both these reasons, this data visualisation tool benefits from the deft touch of analysts and data scientists to really make it sing.
3. Qlik Sense
Formerly known as QlikView, Qlik Sense is another frontrunner in the data visualisation field with 38,000 customers around the globe. Qlik Sense is a product that offers BI, analytics and reporting. It also offers scalability as part of the Qlik Active Intelligence platform. 
What makes Qlik Sense so popular is its extensive customisation options and wide range of features, which have earned it a dedicated community of users. Data analysts and scientists can create very specific queries, with the outputs reported on very flexible and synchronised dashboards. Each graphical element has the potential to provide granular information that updates other parts of the dashboard as the user drills down into finer and finer detail. As a result, enterprise reporting can be customised to the individual, providing macro and micro information on the same screen.
The application's customisation potential has attracted a large number of third-party extensions. Data science teams can also use unique scripting to build their own applications that connect seamlessly with Qlik Sense. Additionally, its scalability can be attractive for data professionals working with massive data projects.
4. Microsoft Power BI
Microsoft Power BI's backbone is its simplicity: anyone who can use an Excel spreadsheet will be able to pick up the Microsoft Power BI interface. Because it's a Microsoft product, Microsoft Power BI integrates natively with a wide range of other software, including cloud services. It also measures analytics and trends in real time, a feature not offered by every data visualisation tool. This allows analysts to make decisions based on up-to-the-minute data. The tool's data security features also help protect data.
5. Domo
Domo's cloud-based data visualisation tool is a collaboration champion with hundreds of dataset connections at the ready. From Xero to Asana and Shopify, almost every element of a business can be connected to provide real-time data visualisations.
Domo's interface isn't necessarily intuitive and requires the abilities of a more experienced analyst or data scientist. With a good understanding of Structured Query Language (SQL) however, Domo's warehouse function makes preparing data a breeze. While Extract, Transform and Load (ETL) operations are normally completed before data is uploaded, here you can continue to manipulate and cleanse the data after upload.
For those less experienced in SQL, Domo offers templates for different industries to use in data discovery. Customised templates can also be created by a business's data team to enable other staff to access information more easily. 
How to get more out of your data visualisation
These data visualisation tools can create graphics and other data representations with clarity and nuance, but they can't guarantee you're asking the right questions of your databases. To do that requires a deeper understanding of statistics, computer science and business.
The Online Master of Data Science and Master of Analytics programs at UNSW, Australia's global university, can help teach you the skills and knowledge to make a big difference in the business of big data. 
Learn how UNSW can help you shape the future of business.