Graduate Certificate in Cyber Security (Online)
As little as 8 months
4 courses
January, March, May, July, Sept and October
100% Online
7649
Completion time dependent on individual study path, RPL, leave and course availability. Please speak to a Student Advisor for more information.
What you will study
The Graduate Certificate in Cyber Security comprises four online foundation courses. Completing these courses will provide you with a comprehensive introduction to security engineering principles, and practices to the design, operation, and assurance of secure systems in this fast-growing industry. 
To find out more about each course download the program guide
Career pathways 
Combine your understanding of current and emerging trends with industry best practice to help combat cyber challenges with the online Graduate Certificate in Cyber Security from UNSW. 
Download your program guide to find out more about how the Graduate Certificate in Cyber Security will prepare you for a successful and rewarding career in one of the most sought-after careers globally.  
Foundations of Cyber Security
Data Security and Privacy*
Cyber security Ethics
Principles of Security Engineering
*Foundations of Cyber Security is a prerequisite for Data Security and Privacy.
After successful completion of the online Graduate Certificate in Cyber Security from UNSW, you may pursue roles such as:
The UNSW Online experience
We are here to support you, every step of the way, to graduate from one of the world's leading universities. Our online learning environment has been designed to seamlessly fit into your already busy schedule and you'll be able to access course resources on any device, at any time.
Our academics are some of the best in the world and, even though you're studying online, you can expect your learning experience to be the same high standard as that of our on-campus students.
Throughout your study journey, you will be able to turn to your Student Success Advisor, who is committed to assisting you from enrolment through to graduation. They are on-hand for all non-academic queries by phone or email.
You will also have access to Career Success – a curated, self-paced module that provides a framework for thinking about, and taking action to implement, an effective career plan. Through Career Success, you will have access to tools like Career AI (powered by VMock) and CaseCoach, and guides on crafting the perfect LinkedIn profile, resume, and cover letter.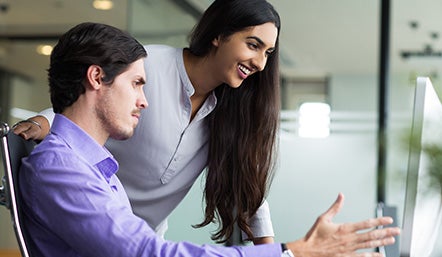 General admission requirements
To be eligible for the Graduate Certificate in Cyber Security you must have:  
Have completed a recognised bachelors degree (or equivalent) with a WAM of 65 as determined by the UNSW Postgraduate Coursework Entry Score Calculator. OR 
Sufficient professional analytical background as indicated by at least two years' experience in an analytical role.
Eligibility for admission does not guarantee offer of a place. Study plans and completion times might vary depending on elective choice, RPL, leave and subject availability. For more information, speak with a Student Advisor.
Entry via nested qualification
Generally, if you successfully complete a Graduate Certificate in Cyber Security, you can progress to the Graduate Diploma in Cyber Security, and from there, to the Masters by coursework degree.