Graduate Certificate in Business (Online)
As little as 8 months
4 courses
January, March, May, July, Sept and October
100% Online
7413
Completion time dependent on individual study path, RPL, leave and course availability. Please speak to a Student Advisor for more information.
What you will study
UNSW's 100% online Graduate Certificate in Business covers the foundational skills required to enhance your credibility and advance your leadership capabilities in contemporary business settings. With courses that are future-focused and driven to meet the demand of employers, you will learn to identify opportunities where others see obstacles.  
By completing these courses, you'll immediately gain relevant frameworks and fundamental management skills to influence decisions, no matter your industry. Upon successful completion of the Graduate Certificate in Business, you may be eligible to articulate into the Master of Management.
Career pathways 
Develop the leadership skills and confidence to take your career to the next level with the online Graduate Certificate in Business from UNSW.  
Download your program guide to find out more about how the Graduate Certificate in Business will enhance your career opportunities in the modern business world. 
Choose any four of the courses listed
Managing Yourself and Others
Financial Management
Business Economics
Foundations of Marketing
Law, Regulations and Ethics
Strategies for Disruption
Entrepreneurship and Innovation
Managing with Digital Technology
Course availability is dependent on initial intake timing and following student participation in study periods. For more information, speak with a Student Advisor.
Studying the online Graduate Certificate in Business from UNSW will give you the skills to succeed in roles such as:
The UNSW Online experience
We are here to support you, every step of the way, to graduate from one of the world's leading universities. Our online learning environment has been designed to seamlessly fit into your already busy schedule and you'll be able to access course resources on any device, at any time.
Our academics are some of the best in the world and, even though you're studying online, you can expect your learning experience to be the same high standard as that of our on-campus students.
Throughout your study journey, you will be able to turn to your Student Success Advisor, who is committed to assisting you from enrolment through to graduation. They are on-hand for all non-academic queries by phone or email.
You will also have access to Career Success – a curated, self-paced module that provides a framework for thinking about, and taking action to implement, an effective career plan. Through Career Success, you will have access to tools like Career AI (powered by VMock) and CaseCoach, and guides on crafting the perfect LinkedIn profile, resume, and cover letter.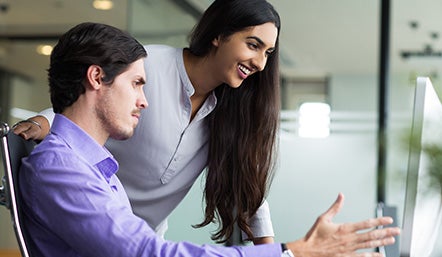 Entry Requirements
General admission requirements
To be eligible for the Graduate Certificate in Business you must have:
A recognised bachelor's degree or equivalent in any discipline or specialisation, OR
A minimum of three years' relevant work experience. Relevant work experience includes clerical or administrative work in a commercial or public service organisation, supervisory or management, banking, finance or marketing experience or other business-related positions.