The rise of a FinTech career
Financial technology (FinTech) is having a bit of a moment in Australia.
We've recently passed the midpoint of a major evolution in the financial services industry – the two-year introduction of the open banking system. It requires banks to share consumer data with other organisations, like FinTech businesses, when requested by customers. In addition to giving consumers more power, it opens up opportunities for FinTech businesses to provide more choices.
But FinTech isn't just about cheaper banking services for consumers. Financial technology is being used by disruptive start-ups and legacy financial institutions alike, to find efficiencies, ensure security and create wealth.
FinTech is also generating job opportunities for upskilling finance professionals, career-changing IT professionals and early career employees who are ready for finance's fourth industrial revolution.
It's a good time to be thinking about investing in a career in FinTech.
FinTech and the financial services industry
In 2019, the Australian Government established a committee to conduct an inquiry into financial technology. One area of focus for the inquiry is the size and scope of the opportunity FinTech offers to Australian businesses.
When committee chair Senator Andrew Bragg presented the interim report in September 2020 he highlighted FinTech's potential to boost the Australian economy after COVID-19.
"As Australia faces its first recession in 30 years, it's clear we need more jobs and the only way to do that is to embrace technology and become globally competitive," Bragg said.
In its report Pulse of Fintech, KPMG agrees that the response to COVID-19 will be one of the key drivers of investment in FinTech for the foreseeable future. The report also emphasises the importance of data analytics in the financial services industry. Financial institutions are increasingly looking to data to provide greater insights into customers and risks.
While lean, nimble start-up companies have led FinTech's disruption of the pinstriped financial establishment, large legacy banks are increasingly embracing FinTech's benefits.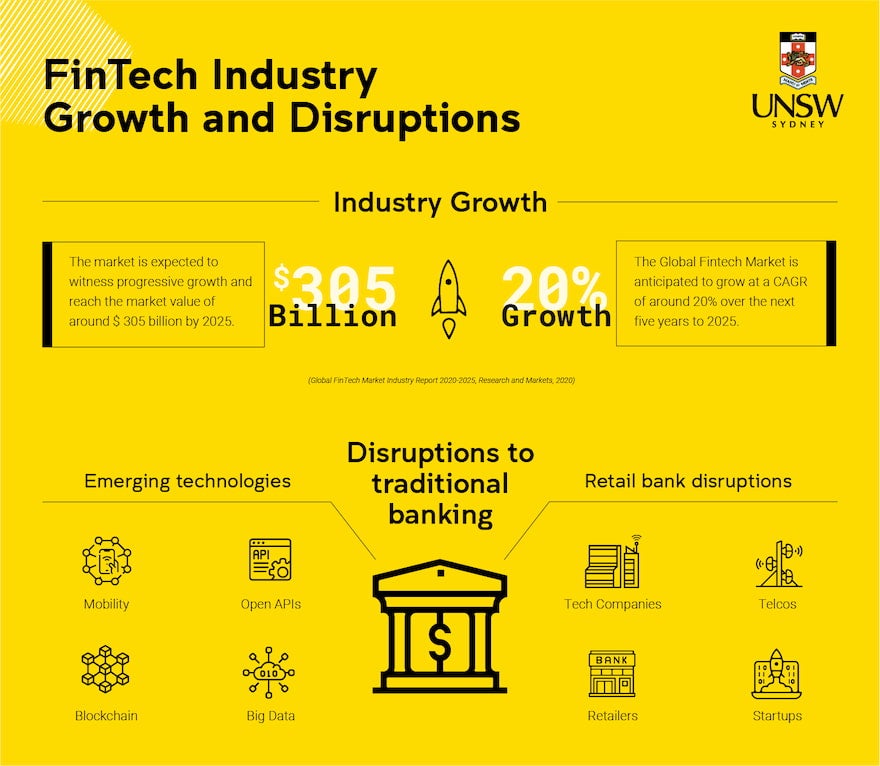 Technical skills for a career in FinTech
UNSW Online Master of Financial Technology Senior Lecturer and Program Director, Dr. Luis Goncalves-Pinto, said for a successful career in FinTech, one needs experience in programming and advanced quant skills.
"In banking, demand is growing for developers who can bring various programming language skills to business," he said.
"It is also valuable to have a good understanding of pricing, consumer choice, data science, deep learning, and natural language processing. Altogether, this list of skills could offer a significant competitive advantage in the job market," Dr. Goncalves-Pinto said.
Superhero is a new FinTech business that aims to make share-trading more accessible with lower minimum investments and brokerage fees. The two Superhero founders bring together their own set of technical skills that complement each other, and together through their leadership operate as a full-stack quant.
John Winters has a long history as an investment advisor and wealth manager with stockbroking firms and banks. His co-founder Wayne Baskin has spent a similar amount of time as a systems analyst, software engineer and chief technical officer. Together they have a broad range of technical skills in both finance and technology. When one person possesses this combination of skills, they're known as a full-stack quant.
Some of the digital skills you'll need for a career in FinTech include programming, data analytics, artificial intelligence, machine learning, cybersecurity and blockchain. To become a full-stack quant you'll also need an understanding of finance, mathematics, statistics and probability.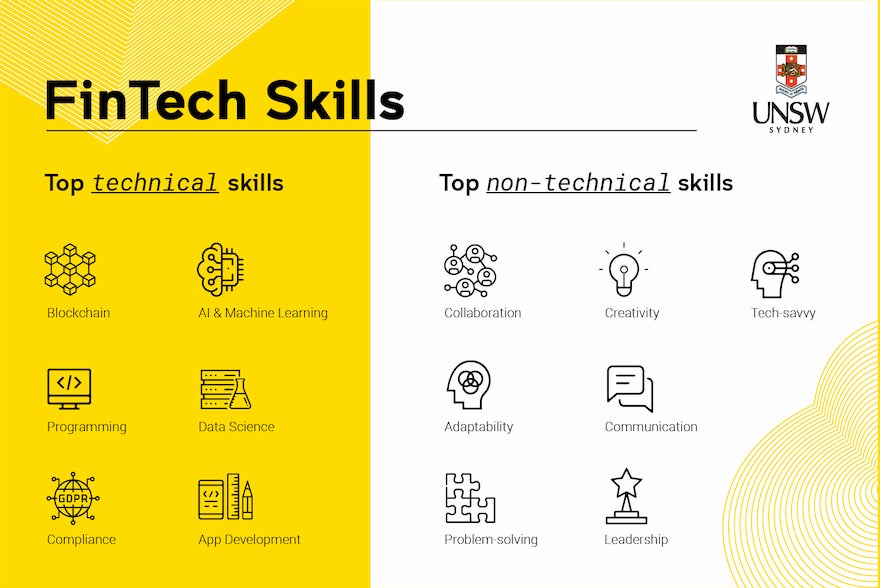 Soft skills for a career in FinTech
Soft skills are often an afterthought in high-tech careers, but they are the conduit between your technical genius and the rest of the world. The ability to communicate effectively with colleagues, superiors and other stakeholders is a valuable, transferable skill in every job. It's not just about speaking or writing well but telling and selling a story that connects with your audience.
Problem-solving or creative thinking is another soft skill that is in high demand in FinTech, along with adaptability. The ability to approach problems from a different angle is in the DNA of FinTech, whether you're launching a well-funded start-up, or tackling your daily workload.
The oil that greases the wheels of FinTech is data, which raises the need for soft skills of its own. The ethical use of data is regulated by law and managed by organisations – it's also a soft skill that you can develop to avoid problems before they arise.
Dr. Goncalves-Pinto said there are a number of valuable non-technical skills needed for a successful career in FinTech.
"In addition to technical skills, to thrive in FinTech one needs good communication skills, adaptability and creativity, a tech-savvy approach to problem-solving, and a collaborative attitude that can facilitate innovative thinking," he said.
UNSW Online's Master of Financial Technology is a degree that offers a deep understanding of data and ethics along with other soft skills. It also provides technical skills in programming and analytics to put you on the path to becoming a full-stack quant.
Careers in FinTech
Around the world there is high demand for FinTech professionals, particularly those who can push the boundaries of this exciting technical frontier. One of the key indicators of that need is the increasing popularity of banking apps on mobile phones. A report in the US showed that 70 per cent of people used their mobile device to manage their bank account at least once in the last month.
Of course, FinTech is about much more than mobile banking apps. Here's a guide to some of the possible careers you can look forward to in FinTech.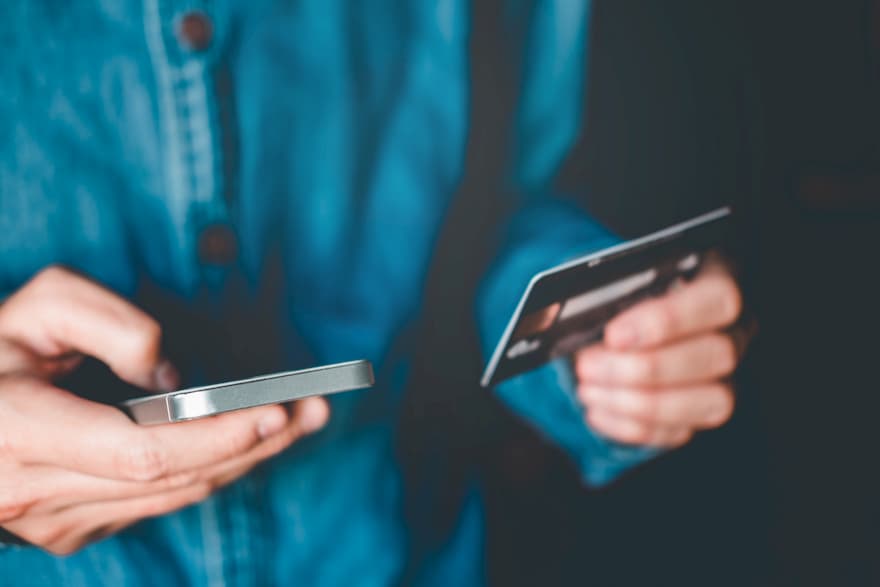 FinTech business analyst
The role of the business analyst is difficult to pin down – it means different things to different organisations. The International Institute of Business Analysis describes it as follows:
A business analyst works as a liaison among stakeholders to elicit, analyse, communicate and validate requirements for changes to business processes, policies and information systems. The business analyst understands business problems and opportunities in the context of the requirements and recommends solutions that enable the organisation to achieve its goals.
Now you can see why a career in FinTech requires so many different technical and soft skills!
As a FinTech business analyst, you could be working as a product manager in a scrum team, delivering enhancements to mobile banking apps. You could be developing analysis and business cases for vendor selection and partnership agreements in new business opportunities.
In this role, you'll be working in a collaborative team, communicating with stakeholders and driving technology towards achieving commercial goals.
Business analysts can expect to earn an average salary of $90,000.
FinTech strategy analyst
Lindsay Davis is an American strategy analyst who's recently been promoted to Director of Intelligence. She has built her career on advising management executives on the competitive landscape, go-to-market strategies and product roadmap prioritisation.
Davis describes her business's driving force as, "turning data into actionable strategies as a vital resource that the industry needs to build the next generation of FinTech." Her career as a strategy analyst evolved from graduate studies in economics and international business.
Strategy analysts can expect to earn an average salary of $81,229.
Portfolio analyst
While the strategy analyst applies industry analysis to business performance, the portfolio analyst brings a sharper focus and applies it to portfolio performance. This role varies from company to company, but that portfolio is likely to belong to an institutional investor, a fund manager or an asset allocation.
Portfolio analysts tend to have a stronger financial background so they can understand how financial metrics and regulatory or legal restrictions can impact a portfolio. They also need above-average communication skills as they may be explaining portfolio performance to clients, as well as their superiors.
Portfolio analysts can expect to earn an average salary of $98,750.
Investment banking analyst
Investment banks like Macquarie Group and UBS help large companies or organisations to manage their money and financial transactions. They may facilitate initial public offerings (IPO), issues of new securities to raise capital, or mergers and acquisitions. Investment banking is a demanding job with a lot of responsibility, but it also comes with some handsome compensation.
Investment banking analysts use massive amounts of data to build a better picture of financial consumer demographics. They also conduct deep research into specific industries – so you might be focusing on healthcare, manufacturing or emerging markets.
Despite the heavy focus on data and analysis, investment banking analysts spend a lot of time communicating. On one day you may be writing reports for an IPO prospectus document. The next day you may be speaking in front of a room full of retail or institutional investors.
Investment banking analysts can expect to earn an average salary of $116,000.
Blockchain developer
LinkedIn kicked off 2020 with the news that blockchain is the most in-demand skill in Australia - as well as the United States and most of Europe. That's no surprise to the Australian Government, whose own report revealed that there are 14 job openings for every blockchain developer in Australia.
Blockchain developers have high level technical skills, starting with front and back-end web development. On top of that, they must have a deep understanding of data structures, cryptography and smart contracts. It's these self-executing smart contracts that make blockchain's distributed ledger so powerful – they are contractual agreements between different parties literally written into the code.
Blockchain developers can expect to earn an average salary of $180,000.
Preparing for a FinTech future
In its most basic form, FinTech is simply technology for the financial services industry. Where it gets interesting is when a lean, nimble start-up FinTech company disrupts the traditional financial establishment. Big old banks often have complex, legacy technology that can't compete – so they end up working with FinTechs, acquiring FinTechs or creating their own FinTech in-house.
Dr. Goncalves-Pinto said the rapid acceleration of FinTech services has led to the creation of several roles that will need to continuously adapt within the evolving financial services landscape.
"The areas of most growth in finance and banking will be in applied AI, deep learning, biometrics, cyber security and regulation," Goncalves-Pinto said.
You can prepare for a FinTech future today with UNSW Online's Master of Financial Technology. The course has been designed to develop the technical skills and soft skills required to meet the technology needs of the financial service industry. And because it's 100% online, you can apply your new FinTech skills immediately – so you'll be ready for new and emerging FinTech jobs as they evolve.
Learn to respond to the technological revolution in finance with UNSW Online here.