State of Fintech: Exploring Fintech Challenges and Predictions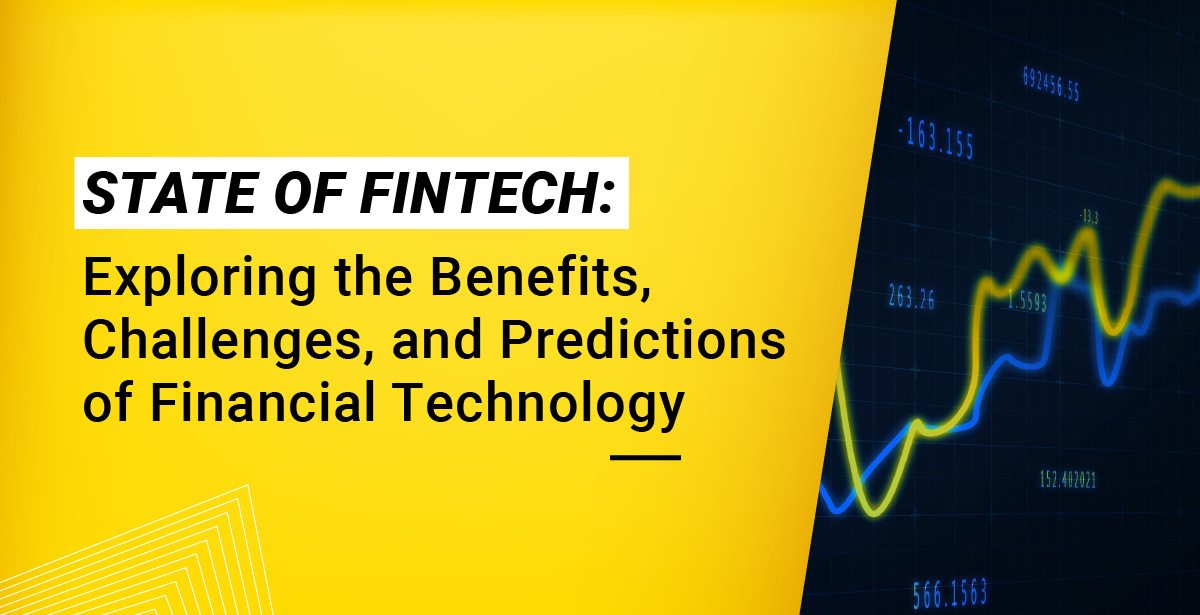 The financial technology industry is teeming with innovation, and investment interest in fintech startups shows just how much potential the world sees in this industry, with global capital investment growing 92% in 2021 alone. The future looks bright in the industry, but as with any industry experiencing rapid growth, there are both opportunities and pitfalls that come along with that expansion. 
We wanted to know how workers in the industry view this growing field, their thoughts on their work-life, and what they think the future holds for fintech. We surveyed 809 workers in the fintech industry from around the globe to get an inside look at this exciting industry and the workforce supporting it. 
Read on to see what we've discovered. 
Fintech Workers Feel Secure at Their Jobs
The Great Resignation is happening across the globe, signalling big shifts in many industries as companies move forward in a very competitive hiring market.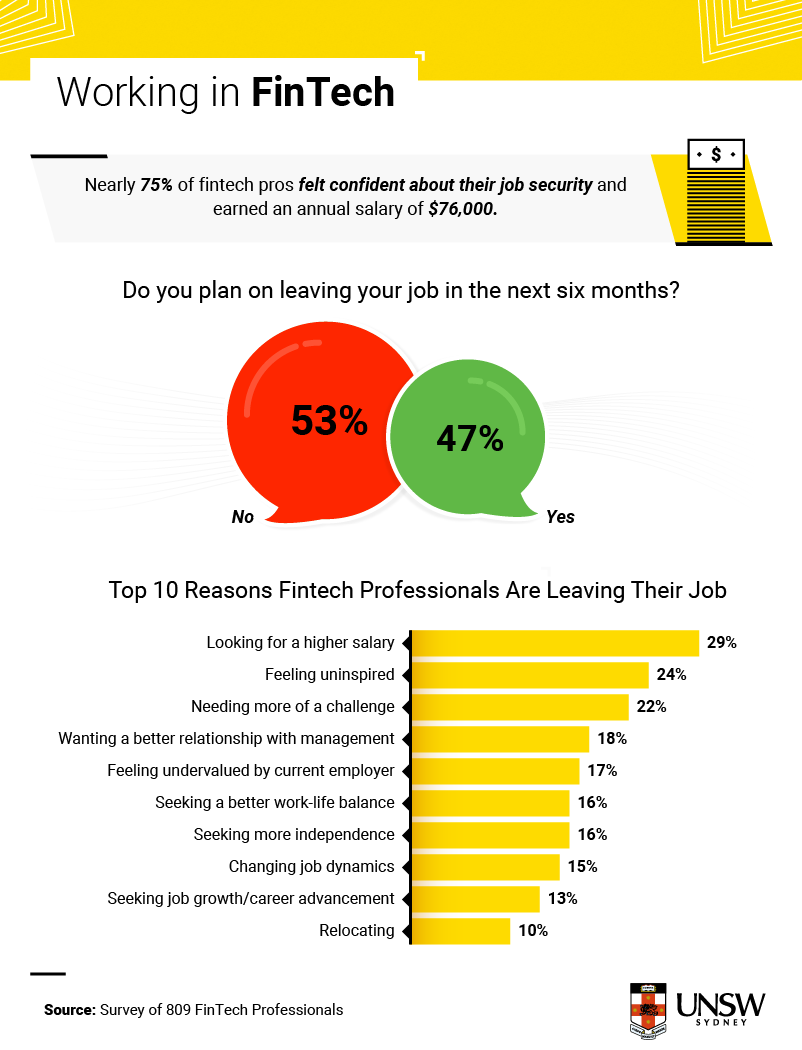 But that doesn't mean every industry is seeing high employee turnover. Less than half of the fintech workers we surveyed were interested in leaving their jobs in the next six months. 
There's quite a bit to recommend in an industry with big growth projections, with over three-quarters of employees feeling a strong sense of job security. 

Beyond job security and an above-average salary, when asked to describe their work, fintech professionals said they enjoyed working in an "intelligent, creative, and engaging" environment, even if it did require working over 40-hour work weeks for the majority of employees. 
Even those that planned to leave their current job weren't necessarily planning to leave the industry; they may simply be looking for a bigger salary, like 29% of those surveyed. 
Importantly, money wasn't everything. More fulfilling work and bigger challenges were also desired among fintech workers seeking other opportunities. 
Industry Software Struggles to Keep Up
Whether it's online banking or something relatively new like blockchain tech, the fintech industry is innovating the way people around the globe manage their finances in one way or another.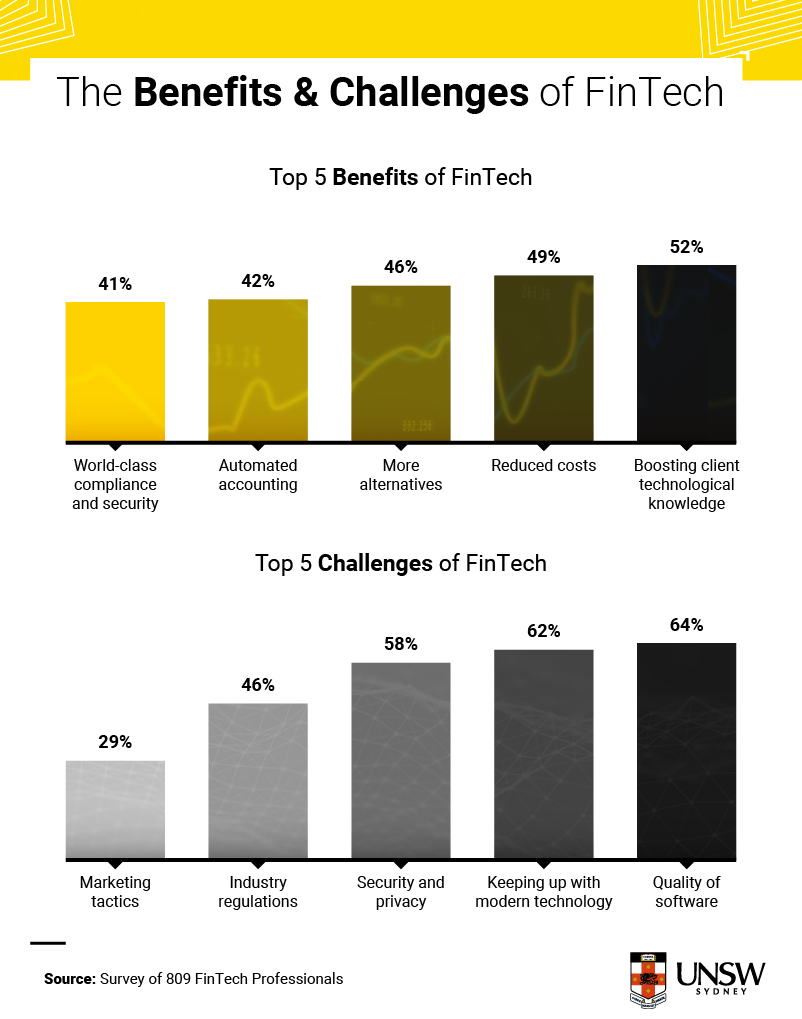 There were more than 25,000 fintech startups worldwide as of November 2021, offering a diverse range of services from peer-to-peer lending, mitigating investment risks, and even mobile banking experiences. From an employee perspective, the most popular benefit of these innovations was heightened client literacy in the technology fueling fintech services. 
Working in an ever-evolving industry is no walk in the park, though. Challenges like keeping up with modern technology and issues with the quality of software were cited by over 60 per cent of those we surveyed, and tackling security and privacy issues will continue to be a concern for those working in this space. 
Security Strategies for High-Tech Finance
Increased worldwide spending on cybersecurity and risk management signals the growing importance of data privacy, especially for companies in the financial tech industry who are common targets of data breaches.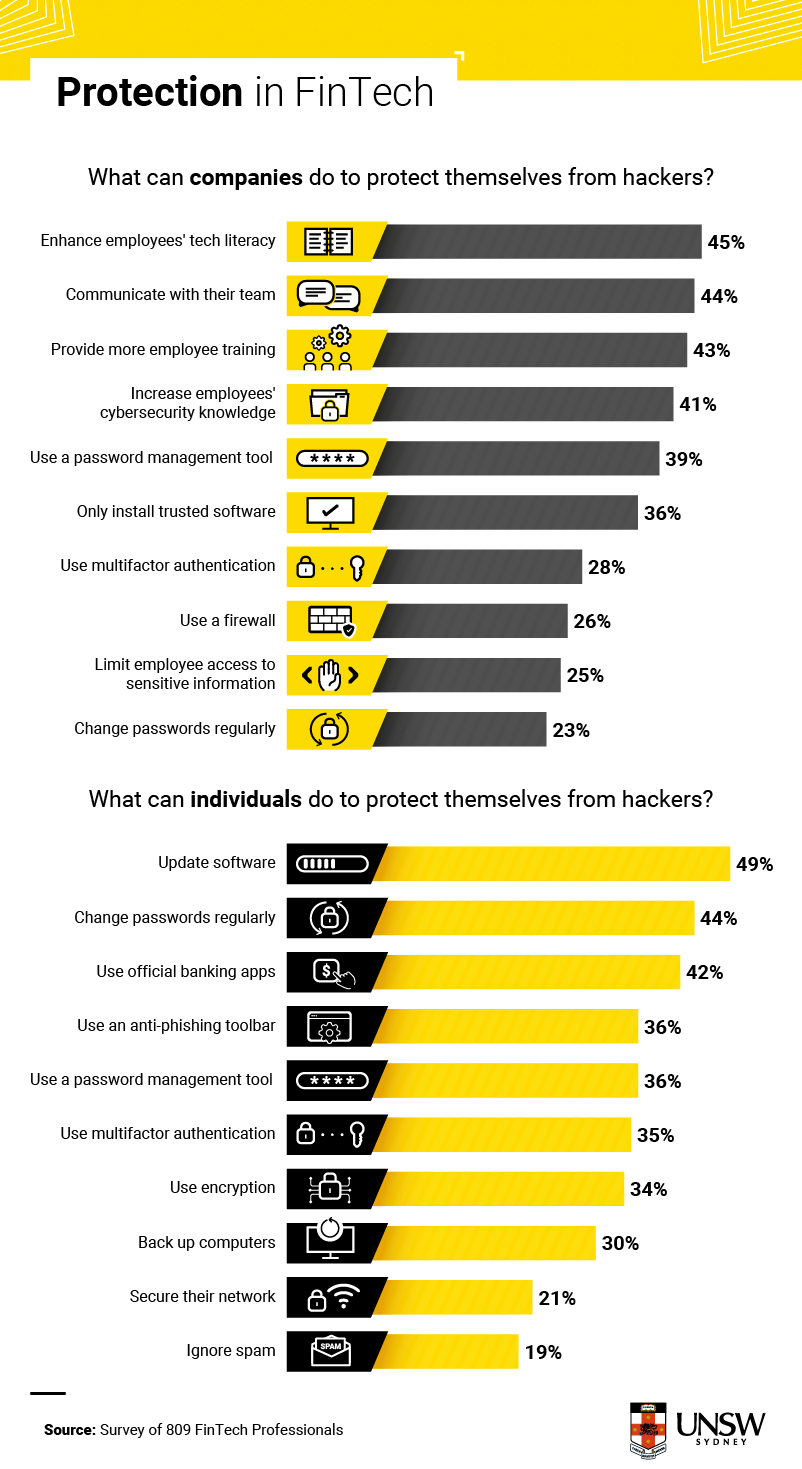 Fintech workers have myriad strategies to help keep both individuals and companies protected. Education, enhanced technology literacy, communication, and training were the cornerstones of a company-level strategy, according to the professionals surveyed. 
These professionals also recommended that individuals update their software as often as possible, change their passwords frequently, and use official banking applications when making transactions.
Fintech's Future
Beyond secure transactions and heightened data privacy, financial tech workers see the accessibility of this technology as one of its key innovations, next to better integration across platforms and tools and centralisation.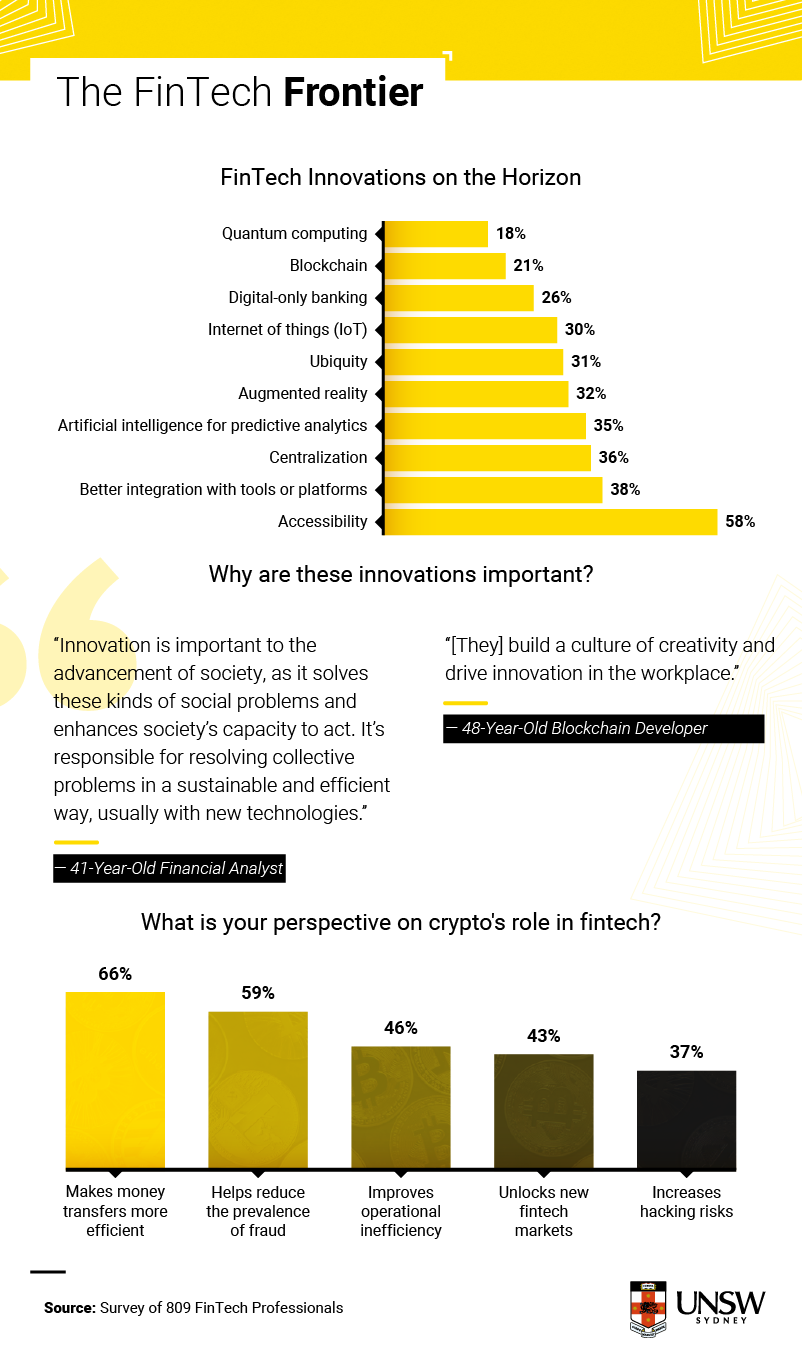 With 20 per cent of global venture funding going into the fintech industry, accessibility is going to be a key piece of the puzzle for companies looking to compete in a highly saturated fintech market. 
Cryptocurrency will play a big role as well, according to tech workers, especially when it comes to the efficiency of money transfers and fraud prevention. As global crypto user numbers are expected to grow to 1 billion by the end of 2022, more and more people will have access to cryptocurrency transactions and a whole new array of products supporting decentralized banking.
Global Fintech Thrives 
The fintech ecosystem is thriving, and fintech workers around the globe have more opportunities than ever, from cybersecurity to new innovations in currency, such as cryptocurrency. And with a bounty of remote work options, they might not even have to make a geographical move in order to find the best fit for their career goals and lifestyle. 
The challenge for companies and professionals, however, is keeping up with the rate of innovation in this industry. As more and more companies adopt fintech and deepen their scope of offerings, workers will also need to adapt and either find ways to specialise or round out their multidisciplinary range across fintech's many opportunities. 
The rapid innovation in fintech can be seen in MBA curriculums at some of the most prestigious business programs in the world, answering the growing need for professionals who can harness finance backgrounds, IT experience and computer science in this space. 
You can prepare for a FinTech future today with UNSW Online's Master of Financial Technology. The course has been designed to develop the technical skills and soft skills required to meet the technology needs of the financial service industry. And because it's 100% online, you can apply your new FinTech skills immediately – so you'll be ready for new and emerging FinTech jobs as they evolve.
Methodology and Limitations
For this study, we administered online surveys to 809 Fintech professionals. The survey was comprised of 6 per cent Australians, 20 per cent Europeans and 74 per cent Americans. Survey data has certain limitations related to self-reporting. 
Fair Use Statement
If you'd like to share this research, you are welcome to do so. Just be sure your purposes are noncommercial and that you link back to this page to provide proper credit.