We Asked Artificial Intelligence to Create Dating Profiles. Would You Swipe Right?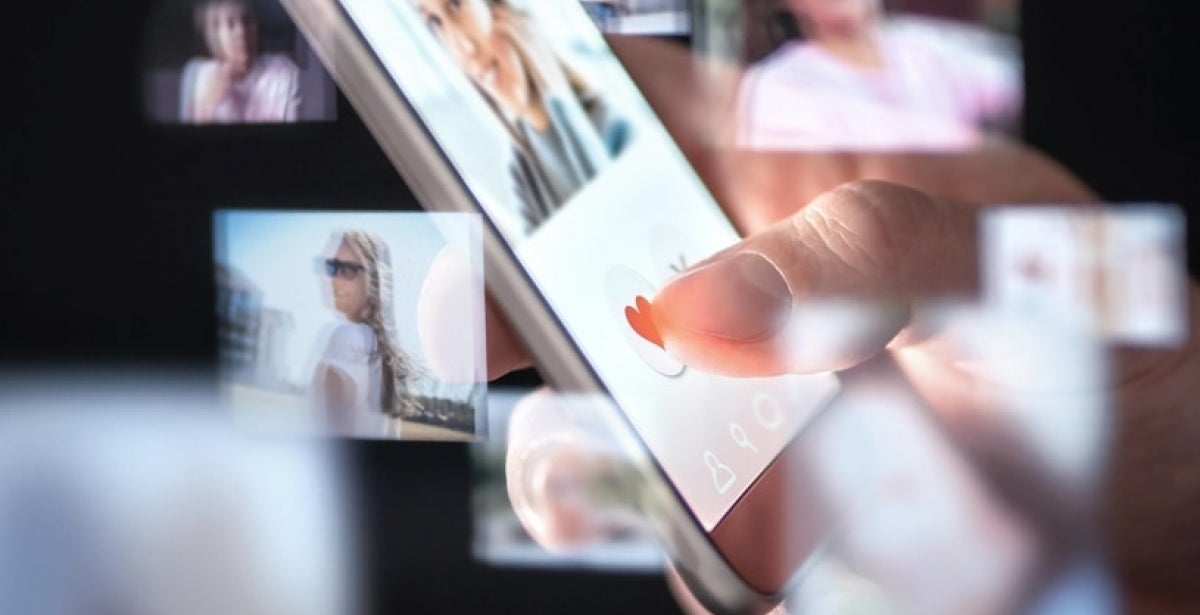 Key Survey Findings
62% of singles would swipe right on an AI-generated dating profile.

43% of respondents said the AI-generated profiles looked real.

67% of singles would be interested in training artificial intelligence to swipe right for them on online dating apps.

Hypothetically speaking, 15% of singles wouldn't swipe right on themselves.

35% of singles are looking for casual flings on dating apps, 65% are interested in finding an authentic relationship.

65% of singles have been in a relationship with someone they met through a dating app.
How much of what you see on a person's dating profile do you consider "real"? The person may be using a particularly flattering picture, their job title may be a bit of an exaggeration, and maybe their life isn't as social as their feed would suggest. But can you at least be sure it's an actual person behind the screen?
Most people can't, and we have proof. We recently showed more than 1,000 singles the dating profiles of completely made-up people – everything from their faces to their words and identities were completely constructed by artificial intelligence. We pulled imaginary faces using ThisPersonDoesNotExist.com and combined them with profiles created using a GPT-2 text-generating model with GPU. By looking through thousands of other dating profiles, AI generated the brand new dating profiles you'll see below. You'll also find how real-life singles swiped on the fake images, as well as their overall perceptions of AI-generated matches. Keep scrolling (or swiping).
Go on an Adventure With Michael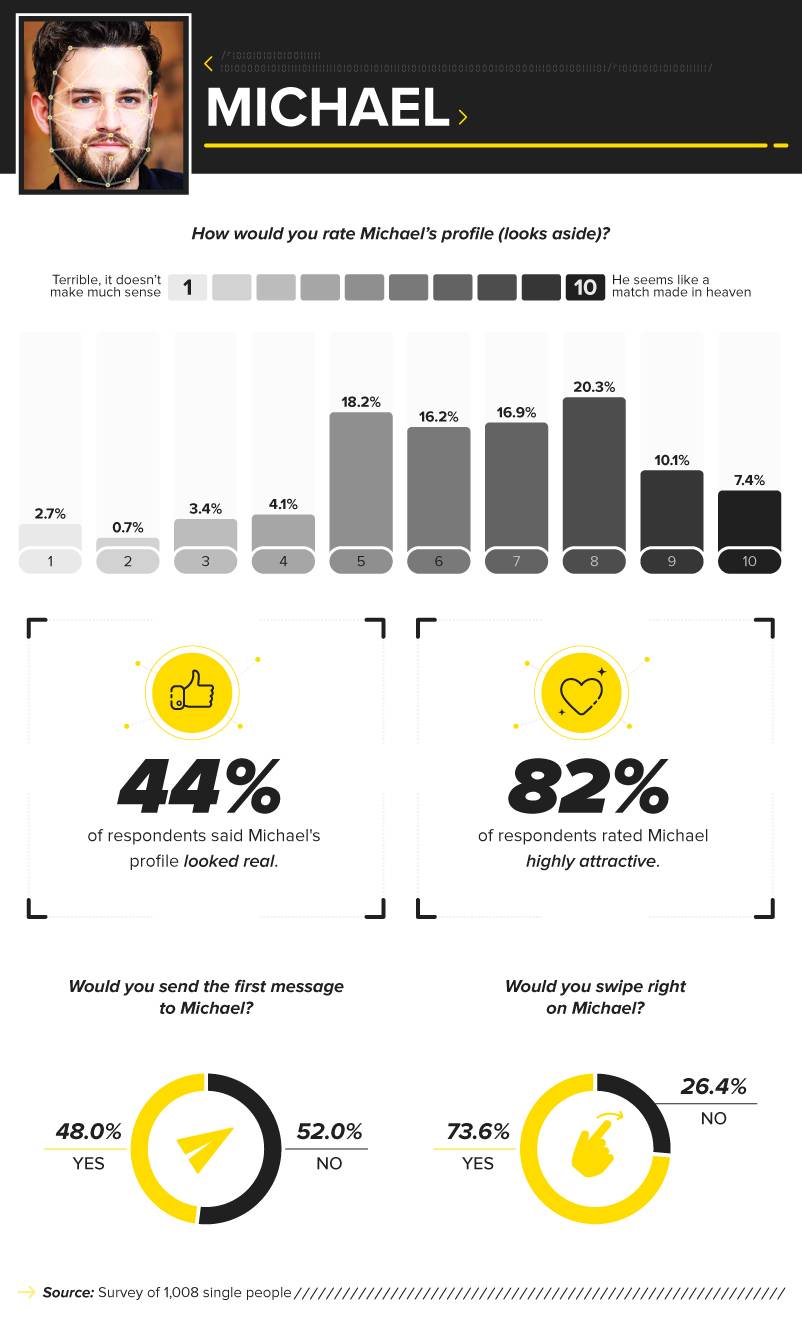 Swipe Right on Albert the Academic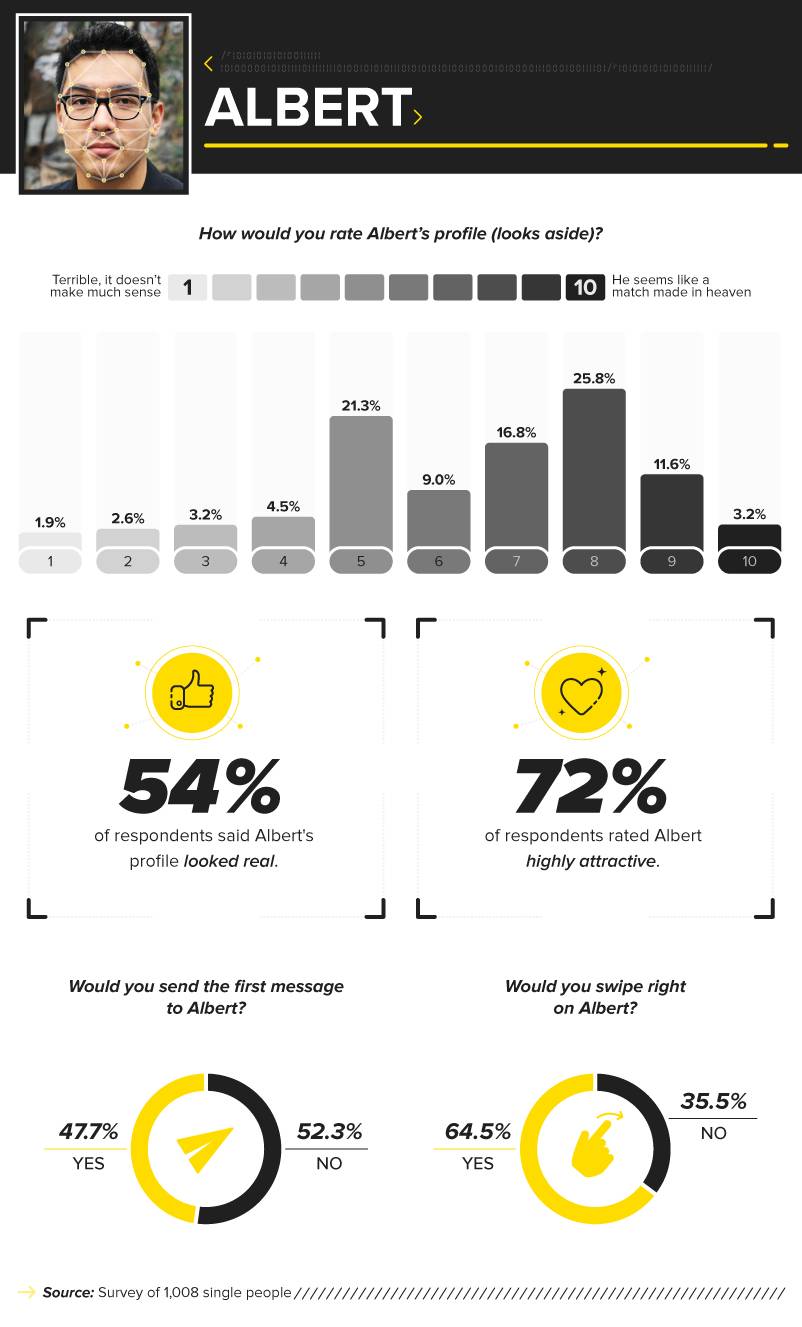 Sing Your Heart Out With Colin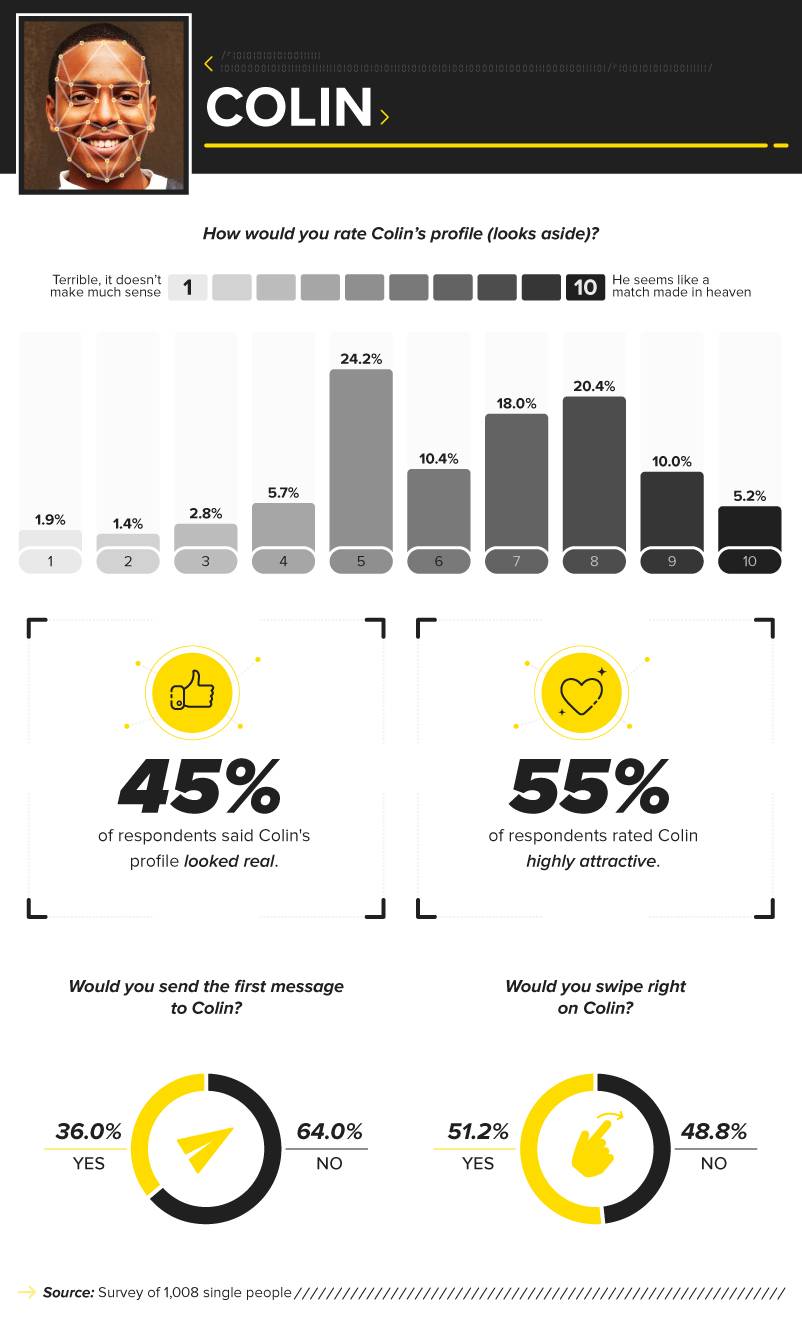 Barhop With Becca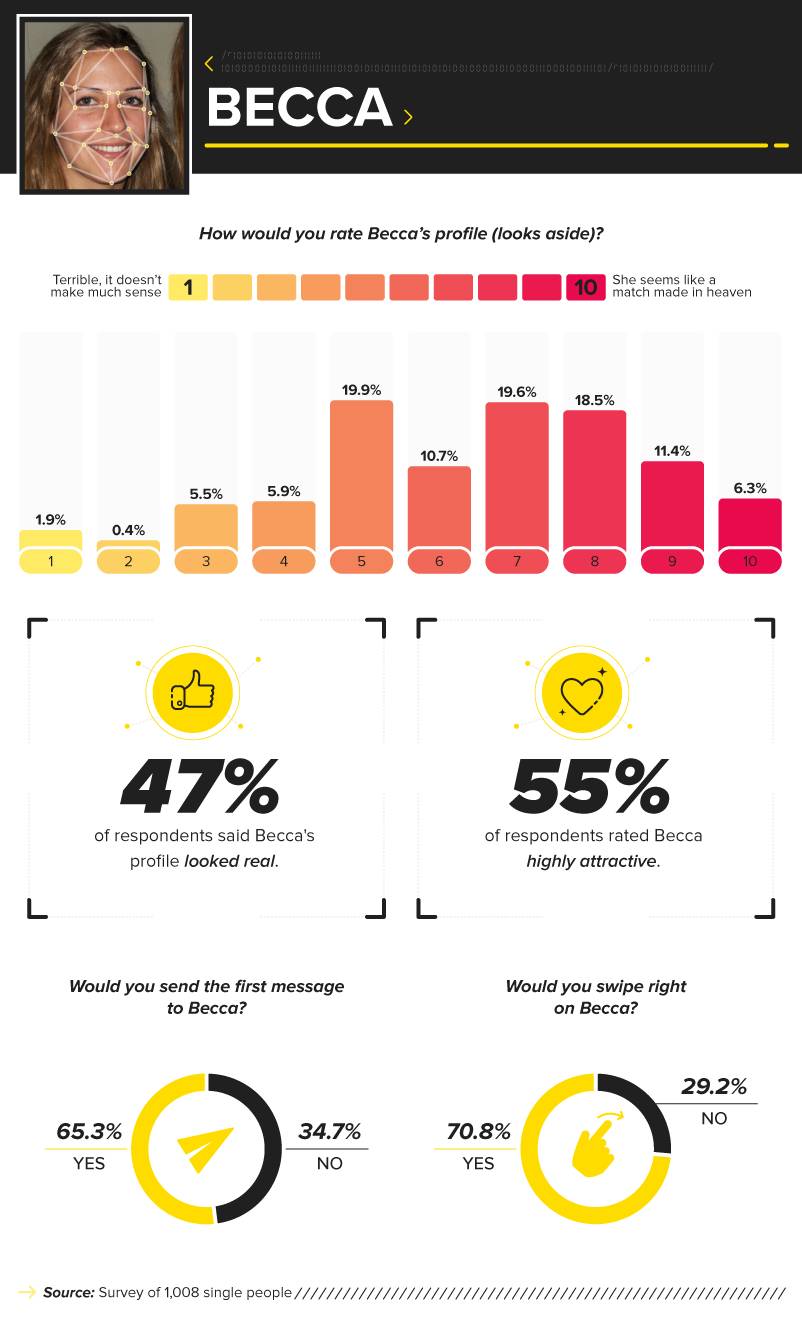 Hang Around With Aimee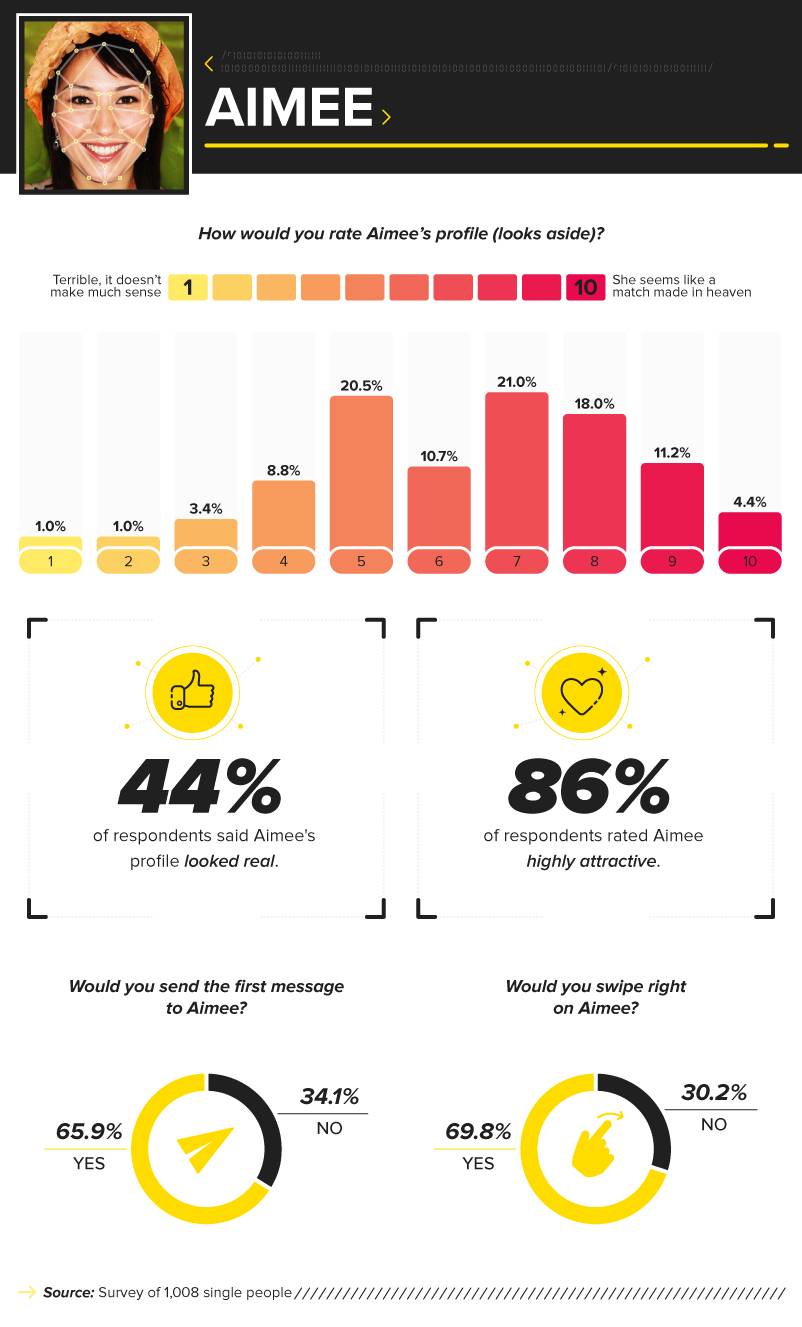 Geek Out With Lydia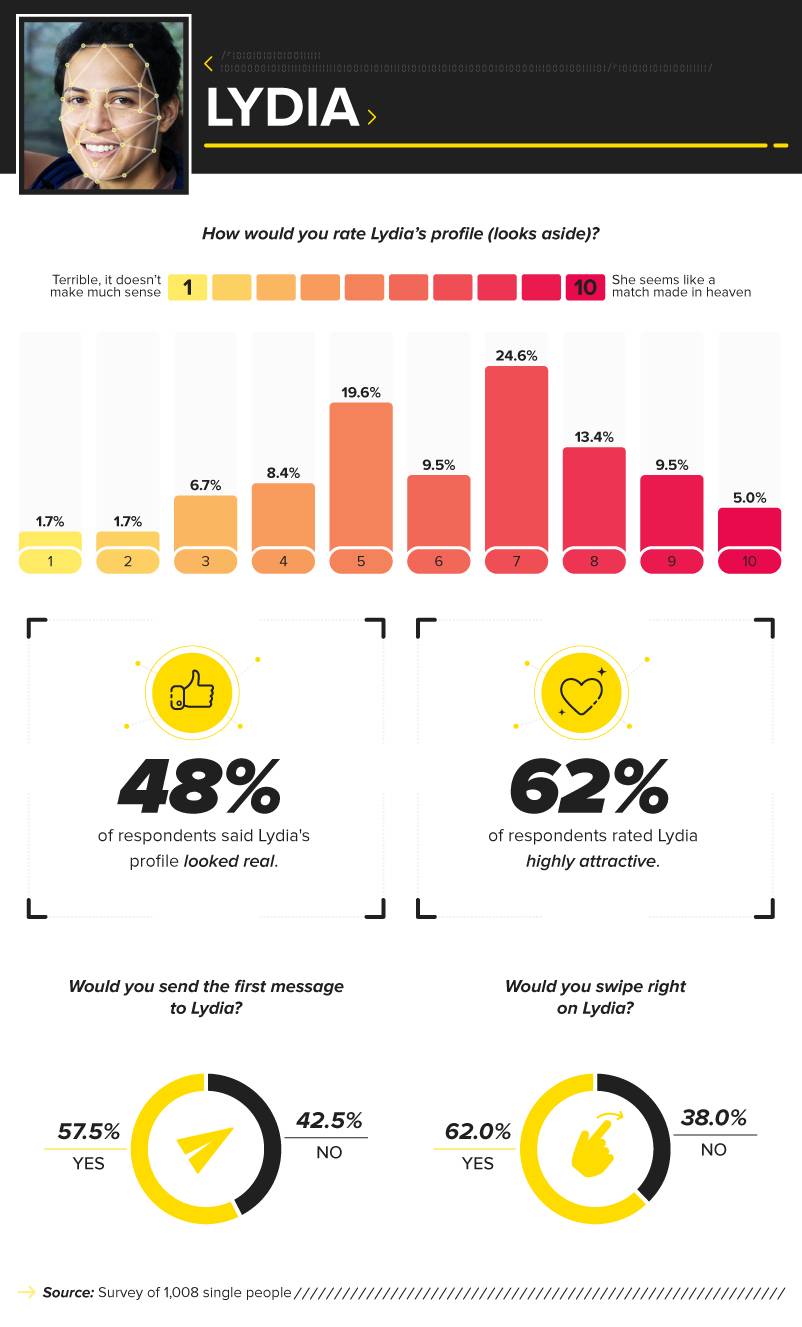 The Future of Online Dating?
Let's consider this study to be a word of caution as you search the world of online dating to find your match: The person you're talking to may not always be who they say they are. Fake people can seem extremely attractive, as respondents demonstrated. Make sure you stay safe and consider the fact that a person may be exaggerating (or completely fabricating) the truth. That said, the world of online dating does offer plenty of opportunities – it's just best to be smart about it and obtain knowledge where you can.
Data science is the key way to extract interesting takeaways (like people take to fake dating matches) from millions of people all around the world. You can actually receive your master's in data science all from the comfort of your computer through UNSW Online's Master of Data Science program, available for enrolment now. Other exciting 100% online postgraduate study programs are available in Cyber Security and Financial Technology, and can be completed in as little as two years, studying part-time. Learn more about studying with UNSW Online by heading to their website. Completion time dependent on individual study path, RPL, leave and course availability. Please speak to a Student Advisor for more information.
Fair Use Statement
The benefits of data science touch everyone constantly. They just may not have realised how. If you know someone who could benefit from the contents of this study, please feel free to share it with them. Just be sure your purposes are noncommercial and that you link back to this page so its contributors can receive proper credit for their hard work.