Social Media and Cybersecurity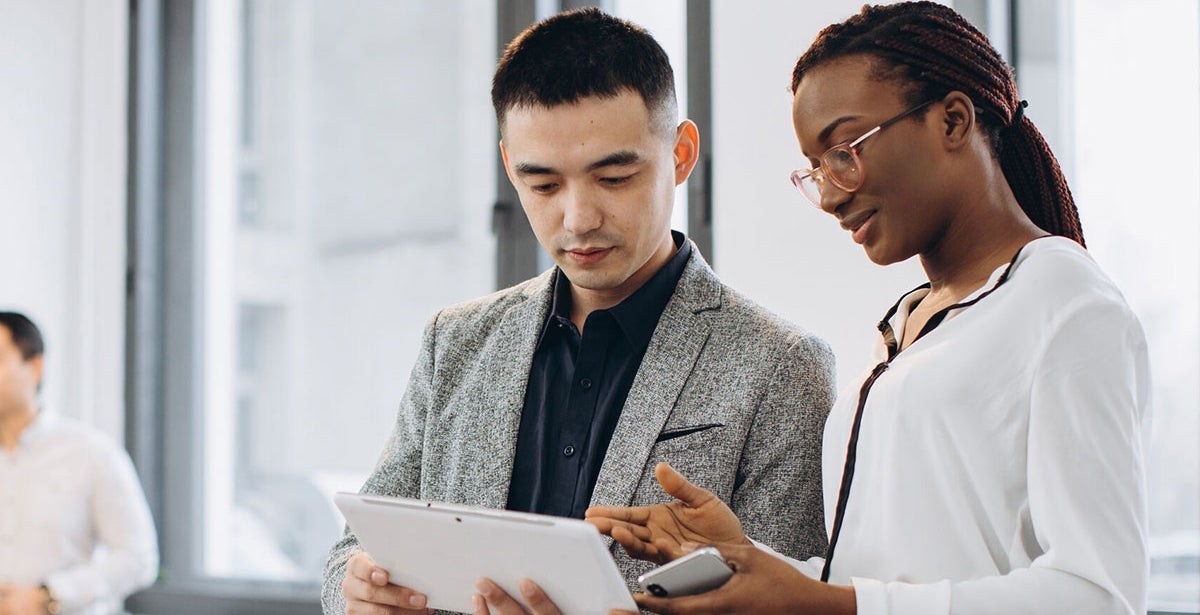 Study Highlights According to Survey Respondents
36% of Gen Zers surveyed are unconcerned with the security risks posed by TikTok.

One-third of respondents don't trust social media companies with their data.

37% of respondents have had their social media accounts hacked or compromised.

Nearly 4 in 10 respondents support a TikTok ban.

39% of respondents support Microsoft in purchasing TikTok
What started as a means of making people laugh turned into a coronavirus coping mechanism before becoming the most viral sensation of 2020. Made up of short video clips typically set to audio clips of music or movie scenes, TikTok has taken the attention-capturing short-form video format from Vine and claimed its top spot among social media apps. But just like other foreign-owned apps to go viral, Chinese-owned TikTok has taken some heat – and this time, it's not only the United States voicing concerns.
Citing a threat to "sovereignty and integrity," the Indian government banned over 100 apps, including the infamous TikTok; Australian intelligence agencies have launched an investigation on the app due to security concerns; U.S. government agencies, including the TSA and military, have called for the app to be deleted from all officials' phones. Governments are taking the threats of TikTok seriously, but with an 800% increase in global users, bringing the total to nearly 700 million as of July 2020, is the public doing the same?
How many people care about security threats enough to support a TikTok ban, and how many are entirely unaware of the risks they're taking? We conducted a global survey of TikTok users and nonusers from the U.S., UK, and Australia to find out where people stand on social media's cybersecurity and their thoughts on TikTok. Keep reading to see what we found.
In Media Apps We (Don't) Trust
Users must agree to privacy policies that they likely haven't read through when signing up for media apps. By checking that box, media apps are allowed to do as they wish with the information collected, leading to security risks for all who use the platforms. Of all media apps, respondents were the most concerned with Facebook's security risks, followed by TikTok and Instagram. Coming under fire for collecting and sharing data without consent, Facebook's scandalous year in 2018 likely contributed to increased risk concerns.
On the other hand, LinkedIn, Youtube, and Twitter were the media apps respondents reported the least concern over. But trust in apps also differed by generation: While 66% of baby boomers were concerned with security risks posed by Facebook, 36% of Gen Zers were unconcerned about the threats posed by TikTok. Compared to the youngest generation, a significant percentage of Gen Xers and millennials voiced security concerns with TikTok and Instagram, respectively. Nevertheless, a surprising 33% of respondents said they didn't trust any social media platform with their data.
Out of Control Ads
While social media poses numerous security risks, including vulnerability to hacking, what social media platforms do with users' information seems to be the primary concern. In fact, 22% of respondents felt they had no control over the data collected about them through Facebook, while 21.4% said the same of TikTok. Unsurprisingly, both social media apps have been accused of gathering and misusing data.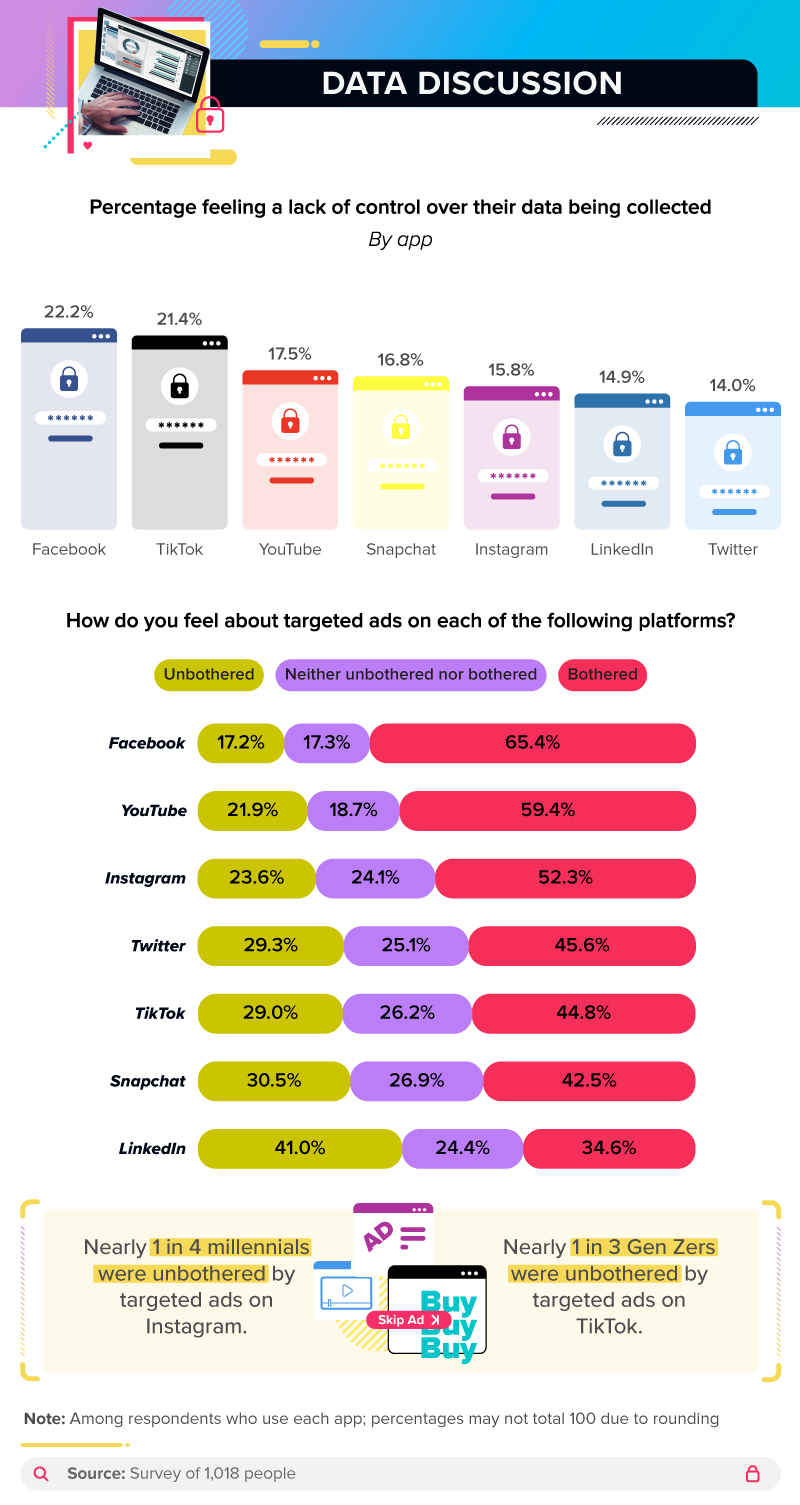 One of the ways in which users can gauge a platform's surveillance on their data is through targeted ads. And yet again, respondents were the most bothered by targeted ads generated on Facebook. However, TikTok was among the apps in which users were the least bothered by targeted ads. Compared to 44.8% of bothered users, nearly 30% weren't bothered at all, while 26.2% were neither unbothered nor bothered. Once again, Gen Zers were the most supportive of the infamous app, with nearly 1 in 3 unbothered by targeted ads on TikTok.
Learning From Experience
With so many potential risks, what are users' primary security concerns posed by mobile apps? For 40.2% of respondents, hacking was the top security concern, while 39.2% named data harvesting, and 36.9% said activity monitoring. Despite increasing concerns of facial recognition technology and AI, only 10.8% of respondents named facial recognition as a top security concern posed by mobile apps. Similarly, election control (10.1%), blackmail (8.4%), and voice activation (6.4%) were among the least of respondents' worries.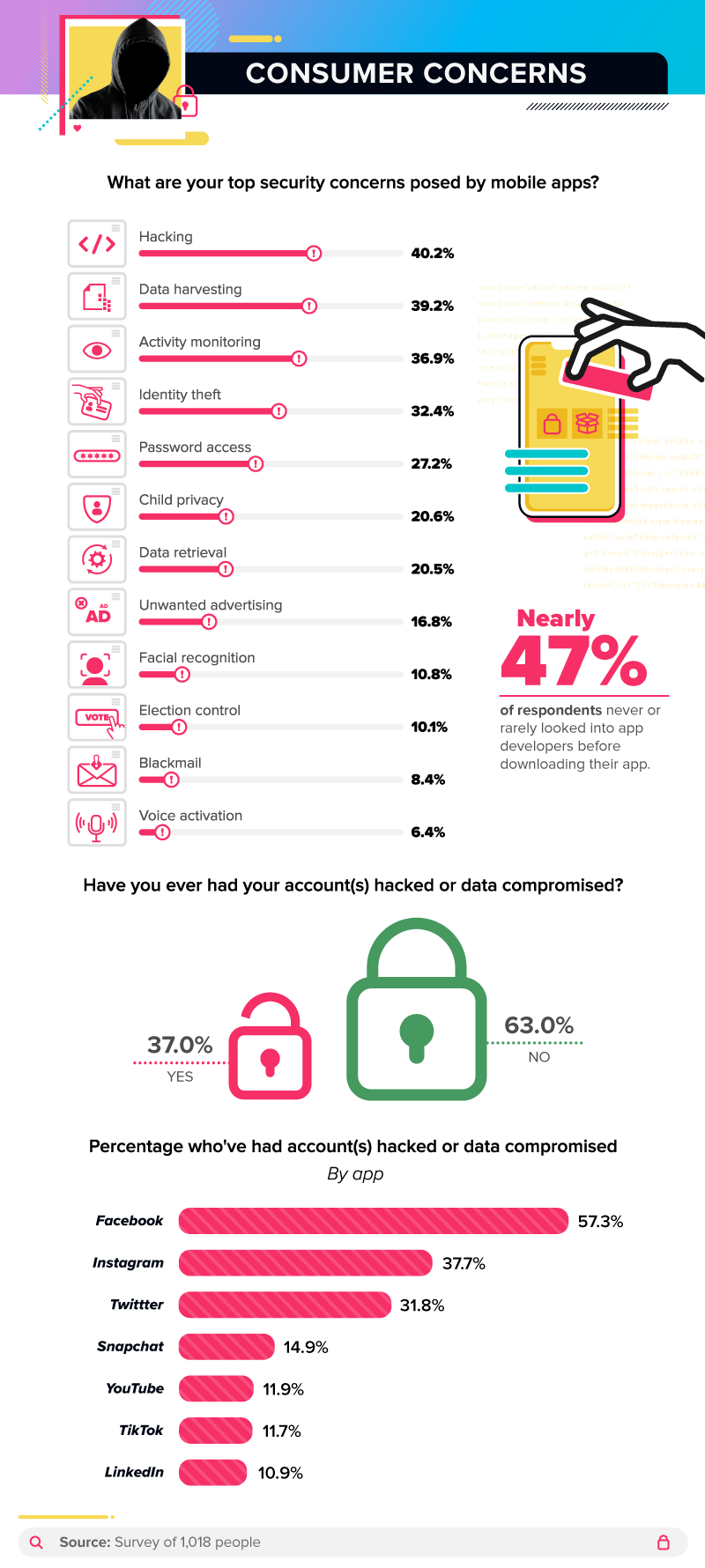 While news coverage may influence the public's concern over app security, it seems personal experience may play more of a role. Compared to a whopping 63% of people who had not, only 37% had ever had their account(s) hacked or data compromised. But the large majority experienced security breaches on one platform in particular: Facebook. Nearly 60% of Facebook users experienced data compromisation or hacking, while 37.7% of Instagram users and 31.8% of Twitter users reported the same. TikTok may be making headlines lately, but only 11.7% of users said they have experienced data compromisation or hacking on the app.
For and Against TikTok
As India has already enacted a ban on TikTok, and Australia and the U.S. consider adopting their own, how do Brits, Americans, and Australians feel about it? While just under a third are unsure, nearly 40% support a TikTok ban. Perhaps unsurprisingly, Gen Zers were the most likely to oppose a ban, with only 25.5% expressing support. On the other hand, millennials were the most likely to support a TikTok ban (42.1%), followed by Gen Xers (36.4%). Sixty-four percent of respondents who identify as Republican supported a TikTok ban, compared to 46% of Democrats.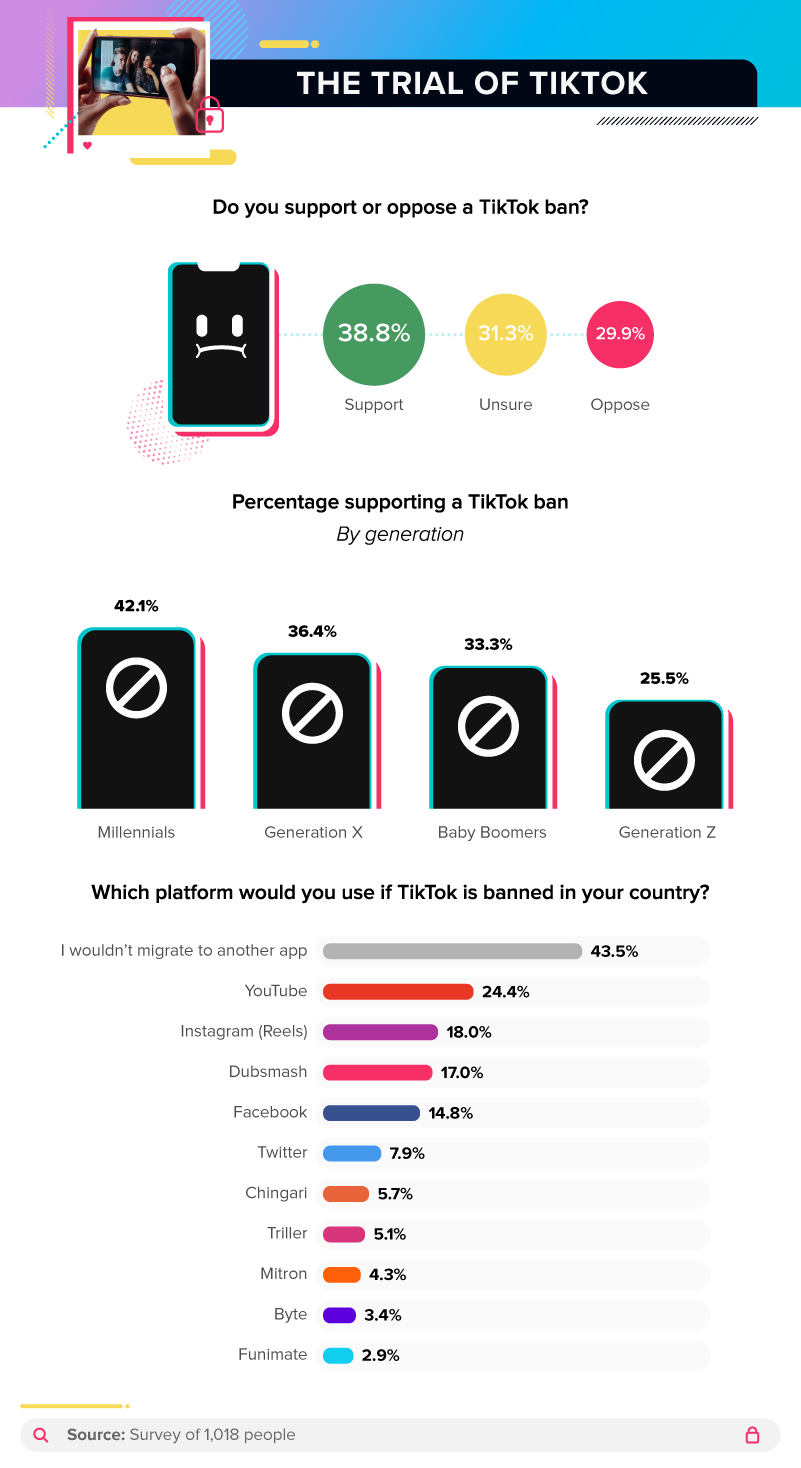 When a country bans an app, the public won't be able to access it. Those who have yet to download the app will no longer find it in app stores, while those who already have it will see an error message. If the bans pass, will users and potential users migrate to a different platform? Almost 44% of people said no. However, among those who would choose to migrate to another platform, YouTube was the most popular destination, followed by Instagram (Reels) and Dubsmash.
Whether they find a replacement app or not, the same security threats may follow. Nearly 50% of respondents said they feared data harvesting on TikTok the most, followed by activity monitoring and child privacy. But these threats are not exclusive to TikTok; media apps all come with security risks, and it's up to users to read privacy policies and investigate parent companies before agreeing to the conditions.
Top Feared Security Threats on TikTok
Data harvesting - 49.5%

Activity monitoring - 46.1%

Child privacy - 41.2%

Data retrieval - 36.5%

Hacking - 35.4%

Identity theft - 29.2%

Facial recognition - 26.2%

Unwanted advertising - 24.2%

Blackmail - 19.5%

Password access - 19.4%

Election control - 18.8%

Voice activation - 15.9%
The Future of TikTok
With talks of a TikTok ban making waves in America, the company took it upon themselves to fight the Trump administration's executive order with a lawsuit. Despite TikTok fighting back, 45.5% of respondents believed a TikTok ban in the U.S. to be entirely possible, while only 34.3% disagreed. Considering the executive order signed by Donald Trump called for TikTok to be sold to an American company, does the public share concern over Chinese ownership? Forty-seven percent of respondents did, while 17% didn't even know a Chinese company owned the app.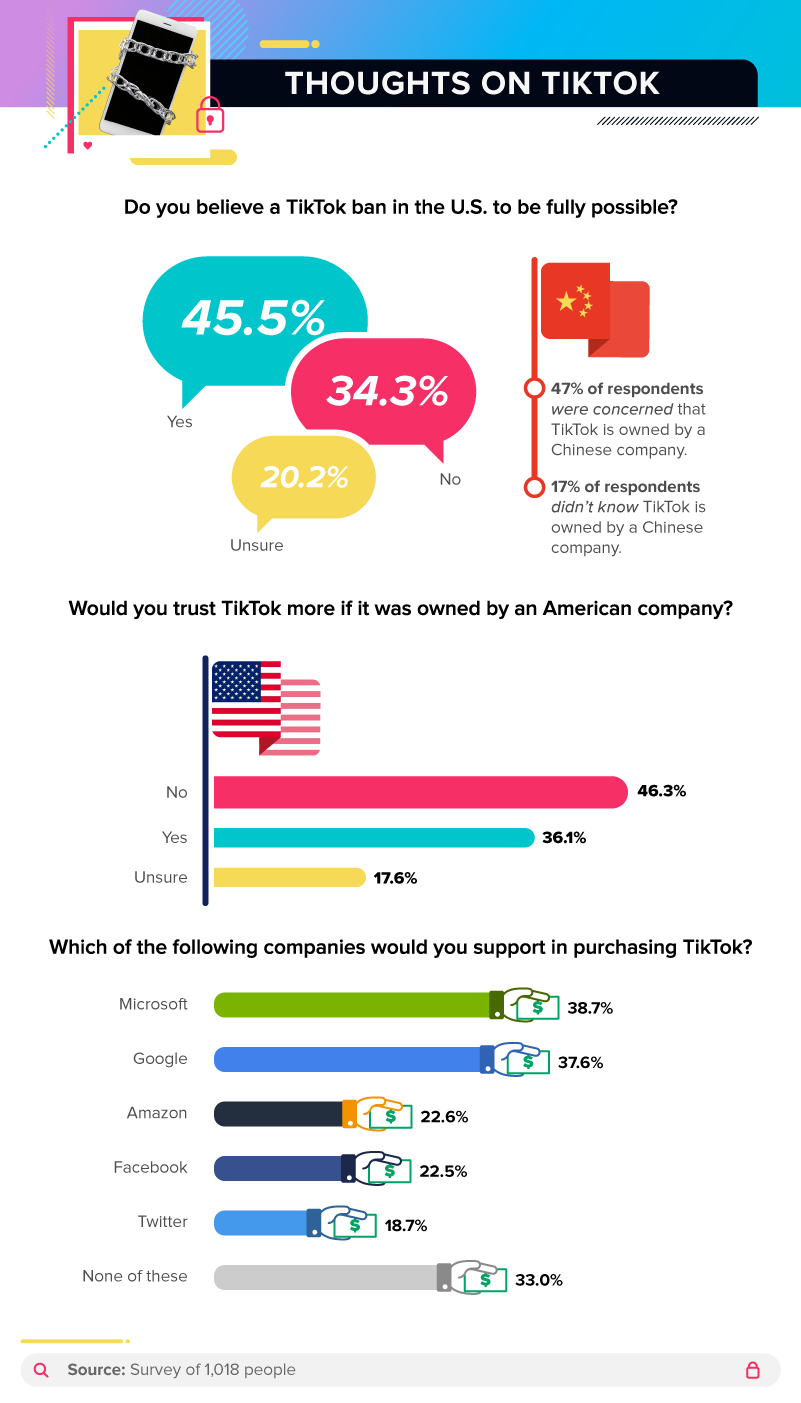 However, with American-owned companies answering to Congress, 46.3% of people wouldn't trust TikTok even if an American company owned it. A third wouldn't want any American tech giants to purchase it, while 38.7% and 37.6% would support Microsoft or Google purchasing the app, respectively.
Tackling Cybersecurity Threats
In a technology-centered world moving through a pandemic, it's no surprise TikTok rose to fame as quickly as it did. But with the rapid rise to the top came a lot of scrutinies. As a Chinese-owned company, countries around the world raised security concerns on how the Chinese government could obtain and use user data, leading to an Indian ban and an American executive order. While Brits, Americans, and Australians seem to support banning the app, the concerns are less about the country of origin or company ownership and more about general security threats posed by social apps.
That's where the experts come in. Cyber security professionals analyse software and situations like this and assess the risks and practical mitigations. Learning how to think like a cyber security engineer can help people protect their personal data – and the University of New South Wales UNSW Sydney's fully online master of cyber security program is designed to do just that. Staying protected in the age of social media boils down to one thing: education. Learn more about UNSW Online and our available programs today.
Methodology and Limitations
We surveyed 1,018 people about social media and cybersecurity. To qualify for the survey respondents had to indicate the usage of a social media app. Of the 1,018 surveyed, 51% were Americans, 42% were Europeans, and 8% were Australians. Forty-six percent identified as female, about 54% identified as male, and less than 1% identified as nonbinary. Fifty-eight percent of participants were millennials, 10% were Gen Zers, 25% were Gen Xers, and 8% identified as baby boomers or older. The average age of respondents was 34 with a standard deviation of 9 years. An attention-check question was used to identify and disqualify respondents who failed to read questions and answers in their entirety. The main limitation of this study is the reliance on self-reported responses which are faced with several issues including, but not limited to, attribution, exaggeration, telescoping, and recency bias.
Fair Use Statement
Most people use social media without thinking about the data being collected on the other side. It's vital to know the risks to stay protected. If you know someone who could benefit from this study's findings, feel free to share it with them for noncommercial purposes. All we ask is that you include a link back to this page, so readers get all of the information and our authors receive proper credit.